OpenAI recently released DALL·E 2, an AI that takes written text and turns it into an image. A project I've been working on takes stories from Genesis and Luke, feeds them to the AI, and creates images out of the text. For example:
See all 828 AI-generated Bible images in this project. Below is a selection of my favorites, followed by a longer description of my methodology. Hover over any of the images to see the prompt that generated it.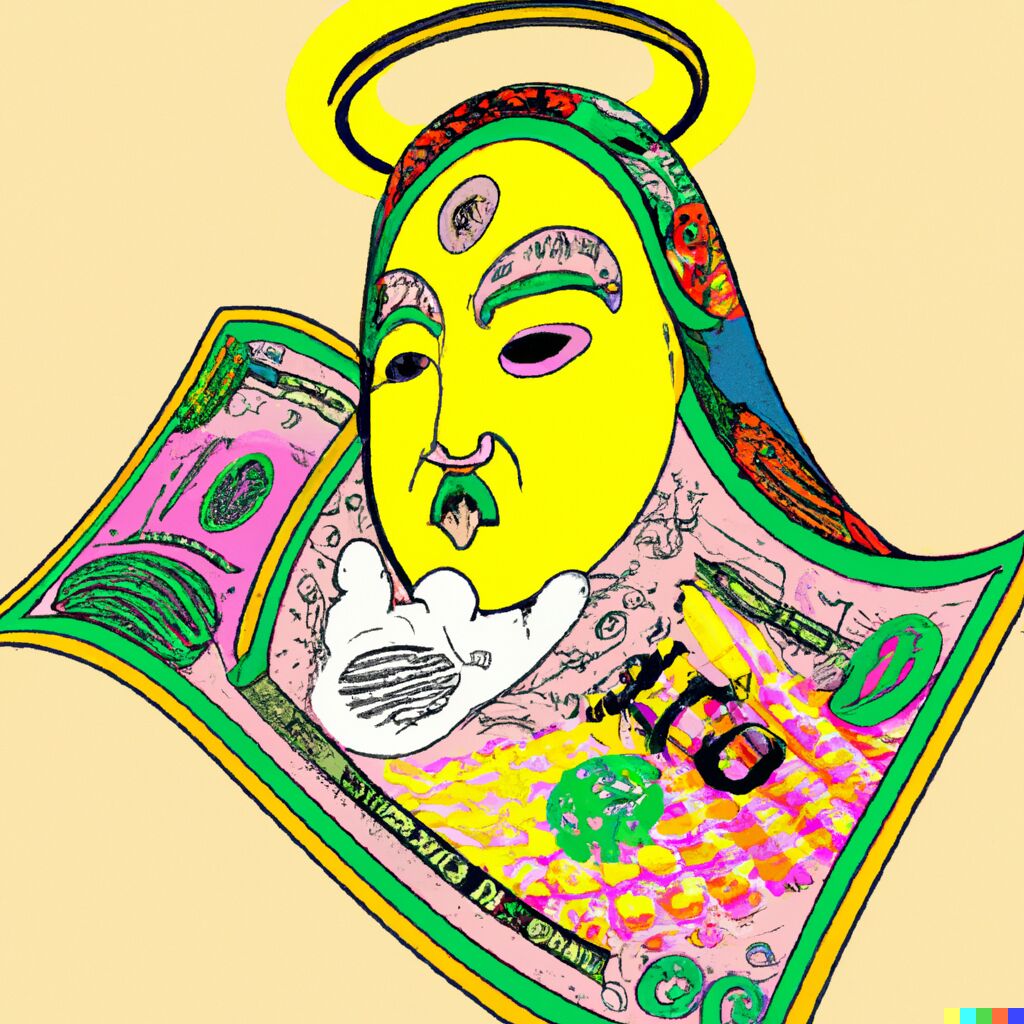 Background
DALL·E 2 is a text-to-image generator that takes a text prompt ("Realistic oil painting of a cat") and generates a set of four images that it thinks matches that prompt. DALL·E doesn't render human faces well, and sometimes it goes completely off-track in its suggestions, but its quality often astonished me.
OpenAI has another AI, GPT-3, that I used to generate many of the ideas for DALL·E prompts. I wanted to explore DALL·E using a wide variety of styles and artists, and I have limitations and biases when it comes to my knowledge of art history. GPT-3 cast a wider net of styles and artists than I would've come up with on my own (although GPT-3 loves Rembrandt and Banksy and mentioned them in many completions). Each GPT-3 completion costs around half a cent, and each text prompt to DALL·E generated an average of 1.3 usable images, bringing the all-in cost per image to around $0.12, or around $99 total for this project. (I generated most of these images during DALL·E's free preview, however.)
The GPT-3 prompts I used evolved over time, but this one is emblematic:
Suggest 5 unique concept ideas for a work of visual art inspired by Luke 14:7-11 (do not pick the place of honor) in the Bible. Include art direction and a specific medium and artist to emulate. Include artists from a variety of eras, styles, and media. Try for an unusual perspective. Title, year, medium. Description.
And here's what GPT-3 suggests:
"Turning the Tables," a sculptural installation in which upside-down tables are suspended from the ceiling, representing how Jesus turned the power dynamic upside-down when he said that the last shall be first and the first shall be last. Inspired by Mexican artist Diego Rivera.
"Remember the Poor," a series of paintings or drawings depicting the poor and needy from around the world, as a reminder that Jesus said we should always remember the poor. Inspired by the work of 19th century French painter Jean-Francois Millet.
"The Banquet," a painting or series of paintings depicting a large banquet table spread with food, similar to the one described in the story of the great banquet in Luke 14, to emphasize the importance of hospitality. Inspired by Dutch painter Pieter Bruegel the Elder.
"The Place of Honor," a painting or sculpture that shows a solitary figure in the place of honor at a banquet table, to represent how Jesus said that the one who takes the place of honor will be the last. Inspired by Chinese painter Zhang Daqian.
"The Outcast," a painting or sculpture of a figure who is excluded from the banquet, to represent how Jesus said that those who are last will be first. Inspired by Nigerian-born British artist Yinka Shonibare.
I thought #1 was especially interesting as a concept, though I couldn't persuade DALL·E to produce something good with it. Diego Rivera, further, is a painter rather than a sculptor, so the suggestion wouldn't work as-is. These ideas often served as a starting place for the prompt I ultimately entered into DALL·E.
I appreciate the irony that I, as a human, am the least-creative part of this whole process; I'm largely copy-pasting content between AIs and then selecting the best output while the AI does most of the lateral thinking.