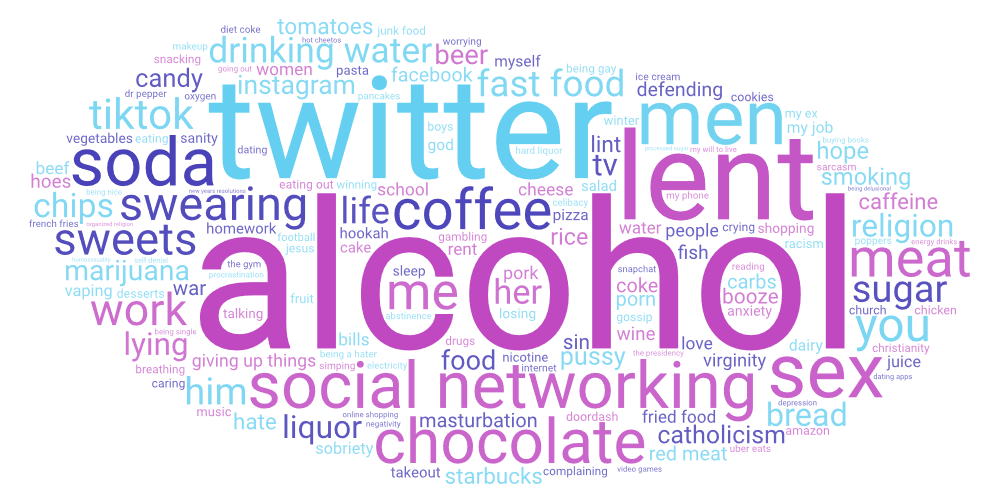 This year, the usual trio of alcohol, Twitter, and social networking led the list, with alcohol just outpacing Twitter.
This report draws from 12,891 tweets out of 386,048 total tweets mentioning Lent.
Vegetables
The increase in "tomatoes" and "vegetables" refers to the announcement that several large grocery stores in the UK will temporarily restrict the number of tomatoes, cucumbers, and peppers that customers can buy because of shortages.
Social Networks
TikTok continues its march upward, this year helped by news that some official EU bodies are banning it from staff devices. Meanwhile, Facebook continues its slide.
Hate
"Hate" and "being a hater" both had sharp increases this year, while "racism" declined.
Restaurants
Food delivery services continue to rise, while Chipotle overtakes Chick Fil A for the first time since 2016.
Water
The increase in "drinking water" refers to a satirical piece about a train derailment in East Palestine, Ohio. The spike in 2021 refers to a Texas power crisis that led to unavailable water.
Defending
Finally, the jump in "defending" refers to a recent loss by the Liverpool football (soccer) team.
Top 100 Things Twitterers Gave Up for Lent in 2023
Top Categories
| | | |
| --- | --- | --- |
| 1. | food | 1,976 |
| 2. | technology | 1,246 |
| 3. | smoking/drugs/alcohol | 1,031 |
| 4. | habits | 645 |
| 5. | irony | 508 |
| 6. | relationship | 459 |
| 7. | sex | 323 |
| 8. | religion | 233 |
| 9. | school/work | 152 |
| 10. | entertainment | 84 |
| 11. | sports | 80 |
| 12. | money | 73 |
| 13. | shopping | 62 |
| 14. | health/hygiene | 57 |
| 15. | politics | 42 |
| 16. | weather | 15 |
| 17. | possessions | 13 |
| 18. | clothes | 6 |
| 19. | celebrity | 2 |